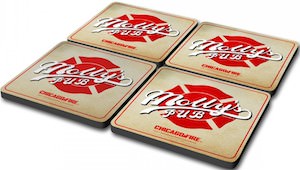 Do you get sick and tired of always cleaning up glass circles stains on your furniture?
Well, if you like the drama series Chicago Fire then these Molly's Pub coaster will put a smile back on your face when you don't have to clean up those stains anymore.
These beige Molloy's Pub set of 4 coaster set features the logo from Molly's Pub on the television show Chicago Fire with the fire department logo in the background and Molly's Pub written on top of it.
They are made from hardboard with a cork bottom and measures 3.75″ x 3.75″ in size. It would be great to sit at your mini bar when you have friends and family over for a party.
Kick back and pretend your having a drink at Molly's Pub with the gang when you use these Chicago Fire Molly's Pub Coaster Set.