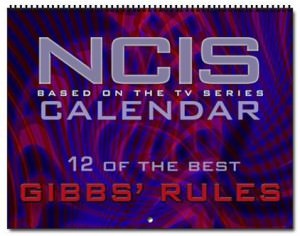 From the hit television series NCIS Leroy Jethro Gibbs has many many rules that he enforces with everyone on his team.
This is a great way to follow and remeber some of his rules, a 2012 NCIS Gibb's Rules wall calendar. of course you will not find the complete list of rules but you will find 12 awsome ones, one for each month of the 2012 year.
This cool wire bound wall calendar measures 11″ x 17″ when open on wall and has a great color scheme.
Get your NCIS Gibbs' Rules Wall Calendar 2012.
You may also like: