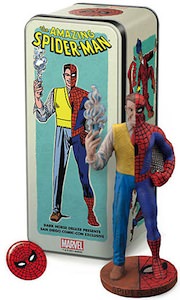 If you like the Amazing Spider-Man and are looking for special collectors items then you found one you will like.
This figurine is half Spider-Man and half Peter Parker all with amazing details based on early trement by Steve Ditko.
So instead of one you get both Peter Park and the superhero inside him Spider-Man.
This figurine is 5 1/2 inch tall and comes in his own tin storage tin complete with character booklet and Spider-Man button.
And there are only 1000 made of this Spider-Man figurine and all are  numbered.
So if you are looking for an addition to your Spider-Man collection or looking for a special present for a special friend then you are in luck as you found Peter Parker / Spider-Man Limited Edition Figurine.