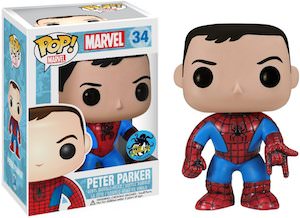 This is a real special Pop! Vinyl figurine.
It was made exclusively for the Stan Lee's Comikaze 2013 and shows Spider-Man without the mask and that means that it shows Peter Parker in a Spider-Man suit.
The mix of Peter Parker and Spider-Man in one figure makes this a real special figurine in the Pop! Vinyl series and one you should own.
Like all the other Pop figurines this one is 3.75 inch tall and comes in a special display box so that you don't even have to unpack it to admire this Spider-Man figurine.
It is number 34 of the series and jus looks stunning.
Spider-Man fans come and check out this Spider-Man Peter Parker Pop! Vinyl Figurine.