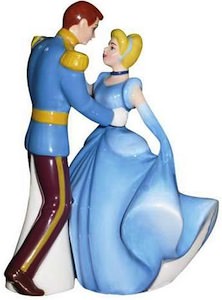 Who is dancing the royal dance?
Now I see who it is, it is Princess Cinderella and Prince Charming. Together they are dancing the night away.
Unfortunatly these Disney characters are not real they are just a salt and pepper shaker set.
Now any dinner can become a fairy tale with a salt and peper shaker based on the story of Cinderella.
This set needs to be part of your Disney princess collection.
So don't wait just check out this Princess Cinderella And Prince Charming Salt And Pepper Shaker Set.