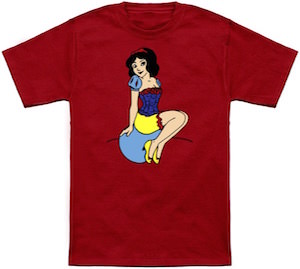 If Snow White would be happening right now then my guess is that the Disney princess would look a lot more like on the t-shirt above.
This red t-shirt shows princess Snow White sitting on a yoga ball and he dress is short showing a log of leg and even her top got adjusted for modern time. It's almost like a pin up version of the princess.
You can get this Snow White t-shirt in version for men, women and kids and all are red and come in many sizes to fit almost everyone's needs.
If you like a more slutty looking Snow White then don't wait and come get your Princess Snow White Pin Up T-Shirt.