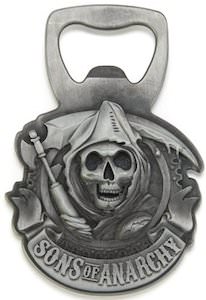 We all need a bottle opener, maybe you don't use it often but you will need one.
So if you need one then why not go with a cool one your really like.
How about a Sons Of Anarchy bottle opener?
This bottle opener shows the reaper logo with the text "Sons Of Anarchy" below it and above it the Bottle opener.
And this is an officially licensed Sons Of Anarchy product and that of course make it even cooler then it already was.
Get ready for some bottle of beer this summer or maybe just old fashion bottles of Coke!
Come and start using your Sons Of Anarchy Reaper Logo Bottle Opener.