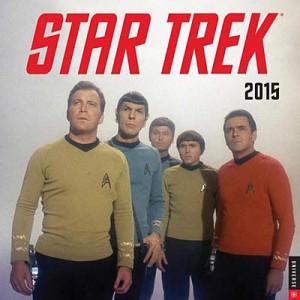 It is a cult classic television show beginning in 1966 and put William Shatner on the map. Of course it is Star Trek. We all love the interstellar crew of the Starship Enterprise and the planets and new races they meet every episode. Now you can keep loving them for 12 months of the year with their 2015 Wall Calendar. Join Mr. Spock, Scott, Sulu and Uhura everyday.
This calendar features 12 great and colorful pictures from our favorite episodes like Balance of Terror and Plato's Stepchildren. Each page also includes a great quote from one of the characters.
It measures 12″ x 24″ when opened up on your wall and there is plenty of room for all of your dates and appointments to be written on the day you need.
Put it in your Captain's Log that you got the Original Star Trek Series 2015 Wall Calendar.
You may also like: