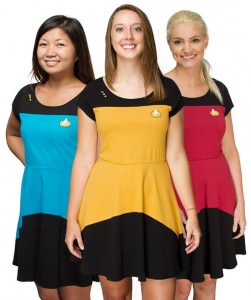 Star Trek fans will love these dresses that you can wear for a costume party, halloween or any occasion.
Featured here are dresses that look  just like the shirts worn in the cool sci-fi series Star Trek The Next Generation, each dress has the starfleet insignia on the upper left and you can choose from red, blue or gold and check out the stylish frilly black under layer that sticks out the bottom to complete the dress.
Made to be comfortable and warmer than a tank dress, they are available in a size range from Small to 2XL
Choose your color and get into the Star Trek A Line Dress.