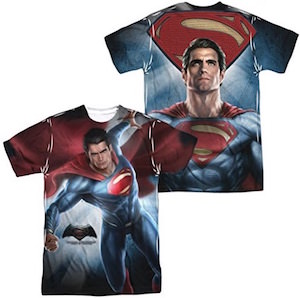 This Superman all over t-shirt has literally Superman all over it on the front and the back and yes that does include the sleeves.
On the back of this t-shirt you can see Superman staring up and behind him you find the Superman logo and on the front the shirt shows Superman in action with his cape behind him and the logo of the Batman V Superman movie besides him.
This t-shirt is great for all those people that would choose Superman over Batman any day and all the Superman fans will enjoy wearing this sublimation print t-shirt.
You can get this Superman t-shirt in unisex sizes Small – 3XL and yes that means that men and women can wear this DC Comics t-shirt.