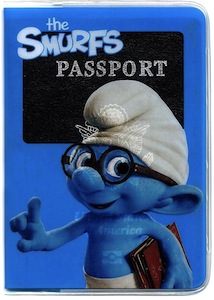 As we all know Brainy Smurf always (thinks) he know best but this time he might be right.
Brainy says that you should store you passport in a passport cover to keep it free of dirt and damages.
And to help us find the perfect passport cover he made one himself.
The cover is Smurf blu and says "The Smurfs" on top and has a big picture of Brainy Smurf on it.
It also has a little window that shows you the passport in it.
And this Smurfs Passport cover fits passports up to 3.5 x 5.25 inch.
This Passport cover also has room for ID / Credit Cards so that even those are safely kept.
Let's thanks Brainy Smurf by having a closer look at this The Smurfs Brainy Smurf Passport Cover.