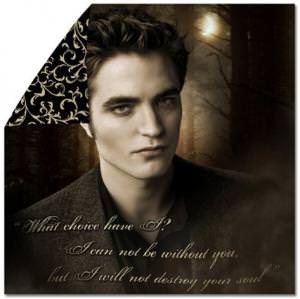 Edward Cullen fans it is time for your dream come true, it is time to lay down with the Twilight vampire.
This is a duvet cover that features Edward Cullen, a very popular vampire character in the movie series The Twilight Saga.
Find a large high quality image of Edward Cullen with the eerie wooded background and the written quote " What choice have I? I can not be without you, but I will not destroy your soul".
A really soft and comfortable duvet cover that is made to be very durable and last a long time with a 180 thread count, this Twilight New Moon Edward Cullen quote duvet cover measures 80 inches x 90 inches.
Have sweet dreams with the Twilight New Moon Edward Destroy Your Soul Duvet Cover.