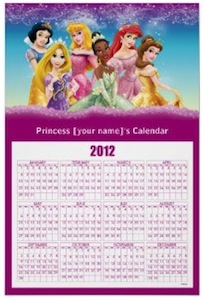 How about your own personal princess calendar?
This 2012 calendar shows 6 of the Dinsey princesses including Snow White, Rapunzel and Ariel and is a poster style calendar that shows the whole year on one page.
But besides being a fun calendar with princesses on it this calendar is also personal for you.
Because between the picture and the calendar there is room for you message. For instance you can make the calendar say "Princess Sasha's Calendar".
And this calendar is availible in lots of different sizes so that it fits perfect for your needs.
Now is the time to order you own Disney Princess Personal Calendar.
You may also like: