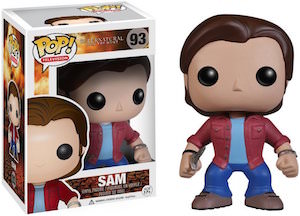 There is Sam Winchester on of the hunter in the TV series Supernatural but of course you knew that already.
This figurine of Sam has everything you expect a jacket perfect face and hair and of course the knife that can kill demons.
This Supernatural figurine is part of the Pop! Vinyl series from Funko and Sam is number 93 in the series.
Sam Winchester is 3 3/4 inch tall and comes in a nice display box and he would love to live in your home together with his brother Dean Winchester.
It's just fun to own this iconic TV character that is already part of our lives for more then a decade.
You can stop worrying about demons and ghosts if you have your own Supernatural Sam Winchester Figurine.