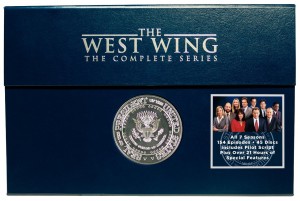 The West Wing a television series loved by many, it won three Golden Globe Awards and 26 Emmy Awards, including the award for Outstanding Drama Series. It is all about the Oval Office and offices of presidential senior staff.
This is the complete collection DVD series of The West Wing, included is 154 episodes on 45 discs and many special bonus features like Behind-the-scenes featurettes and Unaired scenes.
To top this amazing collection off the series comes in a dossier file box with an embossed silver-foil presidential seal and closes with a magnet. Each season comes in individually tabbed and numbered fold-out files, this looks great on a shelf and even better on your television.
Look for your The West Wing DVD The Complete Series Collection.