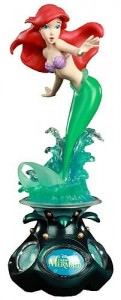 The beautiful and enchanting Ariel from the series of Disney animated films The Little Mermaid.
This is a collectors peice that will be the front and center showcase for sure, features Ariel splashing out of water and a nice black metal base that has 5 oval dispaly areas, one which has the movie logo " The Little Mermaid" painted in it, the other 4 have other great characters painted in them.
Made from cold-cast resin this statue of The Little Mermaid Ariel stands 10 inches tall and is hand numbered, hand painted, and ready to display.
Limited edition of 325 pieces.
Get your The Little Mermaid Ariel Statue.