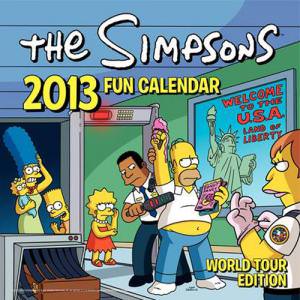 The Simpsons are on a world tour and now you can get in on the action.
This is a 2013 wall calendar that features many popular characters from the hillarious hit animated comedy TV show The Simpsons, each month you will find Homer, Marge, Bart, Lisa, and Maggie visiting a different location around the world … and of course you should expect to see some comedy along with it.
Made as a standard wall calendar size that measures Size Closed: 12.0″ x  12.0 " Size Opened: 24.0 " x 12.0 " and has traditional stapled binding.
COME CHECK OUT A MORE RECENT SIMPSONS CALENDAR!