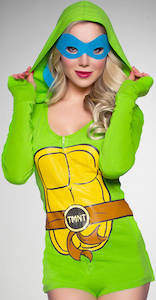 Are you a women that like turtles that fight like ninja's?
If so then maybe you gone like this romper costume that makes any women turn into a Teenage Mutant Ninja Turtle. The romper is TMNT turtle green with the belly of the turtle printed on the front together with the belt that has a buckle that says "TMNT" then of course there is a green hood and long sleeves to make this into the perfect Teenage Mutant Ninja Turtles costume.
Just put zip it all up with the zipper up front and you will be a Ninja Turtle in no time. And to make it even better the romper also includes 4 masks so that you can be your favorite turtle.
Made from 95% cotton and 5% spandex this romper is just perfect for fun around the house or for a dress up party.
You may also like: