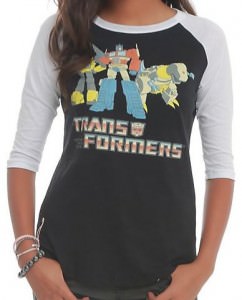 Do you love Transformers, especially the Autobots?
Then this will be a great addition to your Transformers collection and wardrobe.
A very nice looking shirt that features three Transformer characters, Optimus Prime, BumbleBee and Grimlock on the front along with the official Transfomers logo which is "TRANSFORMERS" and the Autobot logo.
This really unique and cool sweater is a women's raglan style black body with white sleeves, it is made from 100% cotton so it will be very comfortable and super durable. It is available in a wide variety of sizes from XSmall – 3XL.
Support your favorite Transformers with the Transformers Girls Raglan Sweater.