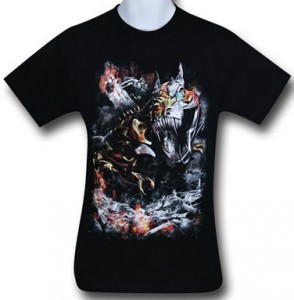 Transformers fans will love this awesome licenced t-shirt featuring Grimlock the strong leader of the Dinobots.
This black t-shirt has the colorful image of Grimlock transformed into a tyrannosaurus rex showing his sharp teeth in his powerful jaw ready to snap anything that gets in his way.
You can almost hear him saying "Me Grimlock want to munch metal".
This Transformers short-sleeved shirt is made from 100% cotton and the t-shirt comes in men's sizes S to 2XL and the image has a slight distressed look.
Now you can earn the respect of others when you wear this really cool Grimlock Transformers T-shirt.