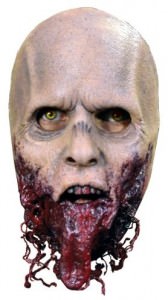 With many gruesome zombies walking around looking evil and very scary on the set of the cool television series The Walking dead it is hard to pick a favorite, but if you ask me the jawless walker is right up there.
This is a mask of a zombie that features a very detailed look of the jawless walker, find a molded head and face that has a jaw that has falling off and all of the gross insides hanging out along with blood everywhere.
The Walkig Dead Jawless walker mask fastens easily and snug by an elastic band, this is the perfect throw on costume for halloween, costume parties or anytime you want to scare.
Have a closer look if you dare at The Walking Dead Jawless Walker Zombie Mask.