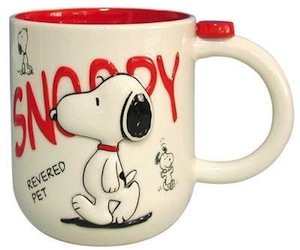 Why get a boring mug that looks like any other when you can have something much more fun like this mug.
This mug is white on the outside and red on the inside and has a bottom that is roundish to give it a mug more fun look.
Then there is also a raised image of Snoopy the dog from Charlie Brown. And in red the word "Snoopy" and a bunch of other fun picture of Snoopy.
If you are a Peanuts fan then you should have a look at this Peanuts White And Red Snoopy Mug.