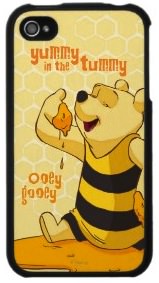 Pooh is hungry but that is nothing new is it.
So this time Winnie decided to dress up as a bee so that he can get as close as possible to his beloved honey.
This is what you see on this iPhone case from Speck.
A case for the iPhone 4 and iPhone 4s with this lovely yellow picture of Winnie the Pooh enjoying the honey it looks like he is sititng in the bee hive.
Haveing Winnie the Pooh on your iPhone case is fun of course but the main reason why you are looking at a case is that you want to protect your phone.
Speck is know for quality products that will keep you phone save.
If you are ready for something yello then come and get your Disney Winnie The Pooh iPhone Case.