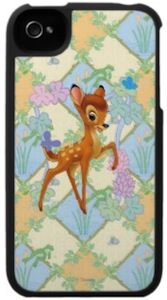 Your iPhone 4S or iPhone 4 look amazing but they could use some protection and what better way of doing this then by getting it a cute case.
This case made by Speck will protect your phone and keep all the buttons and ports open for your use.
And the whole back is covered in a fun design and as you can see it has a cute deer on it.
Yes it is Bambi and she is surrounded by fun colorful squares and lots of flowers and other plants and if i look closely I can even see a frog jumping around.
If you like a cute case and like Bambi then you have to check out this Disney Bambi iPhone Case.