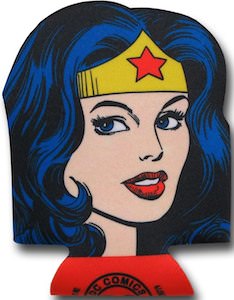 Now cans and bottles can look so much better because of this Wonder Woman koozie.
This can and bottle koozie fits most beer bottles and cans and has the face of Wonder Woman on the front all cut in shape of her face and the Wonder Woman logo on the back.
And besides making your cans look stunning it also keeps your drinks cooler longer and your hands warm. Yes a true win win for the Wonder Woman fan that wants a drink.
Now nobody is gone steal your drink any more because you don't want Wonder Woman to come chase you.
Get ready for a drink that looks good with this Wonder Woman Can Koozie.