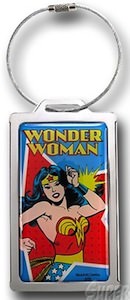 Wonder Woman will make sure that you don't loose your suitcase.
This Wonder Woman luggage tag will be on your bag telling the world that this bag is yours and nobody else.
A classic picture of Wonder Woman surrounded by a highly reflective chrome metal with a metal cord to attache it that is what you get and that is what you need to make your suitecase stand out so that you can find it easily.
Why use those useless paper luggage tags that airlines give you when you can have a nice sturdy metal luggage tag with your favorite superhero Wonder Woman on it.
Get ready to travel with you own Wonder Woman Metal Luggage Tag.
You may also like: