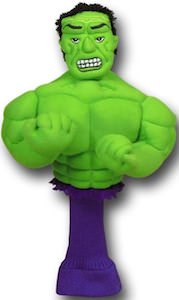 There is the Hulk but this time he is not as big as you are used to.
This hulk is about 12 inch tall and is a golf club head cover.
Now a superhero can protect your clubs from getting damaged and the Hulk loves to be the one to protect your favorite golf club.
The Hulk golf club head cover fits a club up to 460cc and will besides protecting it also make it easier to find and makes you golf bag look way more fun to.
Your friends are gone want one to so why don't you get yours first?
Come and order your Marvel The Hulk Golf Club Head Cover.