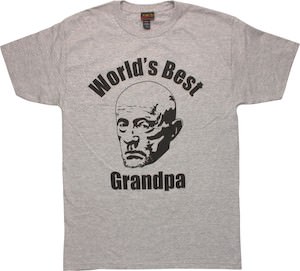 Mike Ehrmantraut is pretty amazing and that is why he is on this World's Best Grandpa t-shirt.
The light gray t-shirt shows the face of Mike with the typical expression we all know from watching Breaking Bad and Better Call Saul. Besides the face, the t-shirt says "World's Best Grandpa" and that is not only true because he takes care of his granddaughter.
On the back of the t-shirt, you can see a tiny Better Call Saul logo so you know it is legit.
You can get this t-shirt in sizes Small – 2XL and it is made from 90% cotton and 10% polyester making this a real comfy heather gray shirt for both men and women.