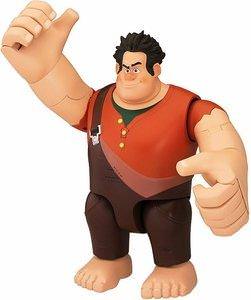 Wreck-It Ralph is a Disney animated movie that is hillarious and cool, it features a destructive villain turned nice guy by the name of Wreck-It Ralph.
This is a talking action figure of Ralph the main character in Wreck-It Ralph, with so many cool features for this action figure like buttons on the back to make arms move while also triggering voice and smashing sound effects.
Also if you push both buttons together you will move both arms and get an angry Wreck-It Ralph voice, when his head turns, Eyes,  mouth and eyebrows move.
This Wrek-It Ralph talking action figure stands 11 inches tall and will be great to play with or as a collectors item.
Play out your favorite scene with the Wreck-It Ralph Talking Action Figure.