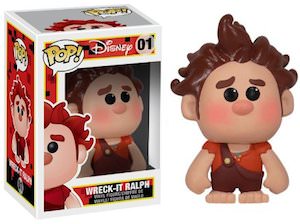 Pop! Vinyl figurines are just to good not to love them and when you see this one of Wreck-It Ralph you just have to agree.
This 3.75 inch figurine of Ralph is just adorable it surely doesn't look like he is gone wreck anything any time soon so just have fun with this little fellow.
As the you can expect Wreck-It Ralph is made from vinyl and the people at Funko did their best making this figurine just look stunning.
Details like the hair of Ralph and the red cheeks make it all worth it.
Personally I would love have Ralph stare it me so maybe I should get my own Wreck-It Pop Vinyl Ralph Figurine.