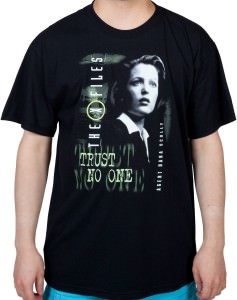 FBI Agent Dana Scully is a very science bases agent who is paired up with Agent Mulder to solve the mysteries of Fox television show The X Files. The extraterrestrial files will get solved with Scully science or Mulder's belief that something is out there.
The t-shirt is black with a black and white picture of Scully and the The X Files logo and the saying, "Trust No One".
This t-shirt is 100% pre-shrunk cotton and comes in a full size range for men, but don't worry, women can sport this t-shirt too. The sizes are Small to 3XL.
You can trust this t-shirt, the X Files Agent Dana Scully T-Shirt.