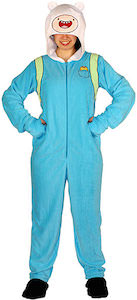 Always want to know how it would feel to be Finn from Adventure Time?
This one piece footed pajamas are perfect to find out.
Just put on these footie union suit pajamas and you look like Finn complete with the green backpack on his back and a hood that looks like his white face. And in his shirt pocket you can see Jake the dog to.
Besides sleeping this suit is also great for costume parties like Halloween or just to lounge around the house on a cold and relaxing day.
You can get these Finn pajamas in a range of adult sizes to make the fit just right.
Get ready to become Finn by simply wearing this Adventure Time Finn One Piece Pajamas Costume.