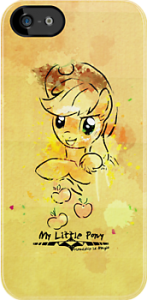 Protect your precious Apple products with Applejack the cowgirl pony from the fun series of My Little Pony.
On the front you find a very well detailed line art drawing of Applejack in her cowgirl hat with arms crossed and her three apple cutie mark logo underneath her, with touches of water color this really is a fine looking case.
Made to pecisely fit each type of device leaving you access to all of the ports, buttons and functions also helping protect from bumps and scratches.
The Applejack iPhone and iPod Touch case is available for many different Apple devices:
iPhone 5
iPhone 4S
iPhone 4
iPhone 3GS
iPhone 3G
iPod Touch 4th generation
Get a closer look at the amazing My Little Pony Applejack iPhone And iPod Touch Case.