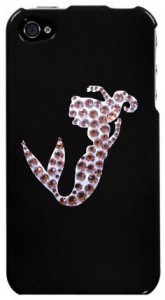 Disney Princess Ariel, is seen here swiming elegantly through the water, only this time she is even more magical.
Ariel is made up of Swarovski crystals giving her a magical shine and is set on a hard plastic cover that will help protect your iPhone 4 and 4S. Also leaving all ports and buttons accessible for easy usage and docking.
This is absolutely amazing and for any Disney fan, definetly the Princess Ariel fan.
Find your Princess Ariel Swarovski Crystal iPhone 4 4S Case.