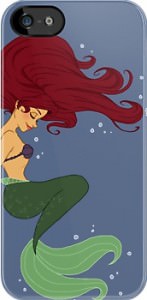 If you love the Disney Princess Ariel, or otherwise know as The Little Mermaid the you will want to protect and stylize all of your Apple products with this case.
Find Ariel floating in the water with her beautiful red hair flowing and that wonderful sea shell bikini top on aswell as great colors of and detail like the bubbles surrounding her.
Made to precisely fit your Apple device leaving all of the ports, buttons and functions open this Disney Princess Ariel case is available in these Apple devices:
iPhone 5
iPhone 4S
iPhone 4
iPhone 3GS
iPhone 3G
iPod Touch 4th generation
Have a look at the Disney Princess Ariel iPhone And iPod Touch Case.