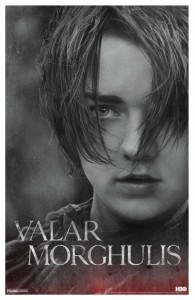 "Valar Morghulis" is a phrase that you don't want someone to say to you.
This black and white poster features the picture of Arya Stark, from the hit series Game of Thrones, and she looks fearless and intense.
The words "VALAR MORGHULIS" are printed below her face. This is the code phrase that Jaqen H'ghar, one of the faceless men, gave Arya on an old iron coin and means "all men must die".
This Arya Stark Valar Morghulis poster measures 11" x 17" and comes with a plastic sleeve with a hook for easy hanging.
Show your love of this brave character with this Arya Stark Valar Morghulis Game of Thrones Poster.