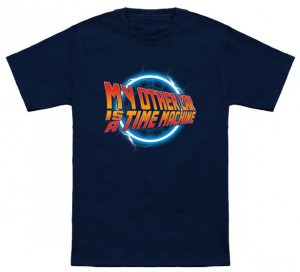 Were you ever looking for a new and one of a kind t-shirt that represents the 1980's? Well this might just be the t-shirt for you, and even more so if you are a Back to the Future fan.
My Other Car is a Time Machine is such a great saying for a Back to the Future t-shirt. It is in the orange and yellow color scheme of the original Back to the Future logo, too bad there is no flux capacitor in the background.
The t-shirt comes in a Small size and ranges all the way up to size 2XL. It comes in 4 different colors, navy, black, charcoal and a dark chocolate. It is a unisex fit, so anyone can flaunt this great t-shirt, and it is made of 100% cotton for a comfortable material.
Wear with pride your Back To The Future My Other Car T-Shirt.