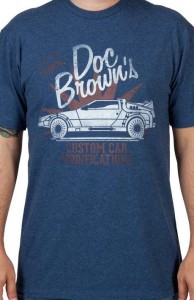 Fans of the classic 1985 time travel movie Back to the Future will love this Doc Brown t-shirt.
Doc Brown was Michael J Fox's character Marty McFly's scientist friend who modified a DeLorean sports car into a time machine and Marty accidently went back 30 years in time while driving it.
This 60% cotton/40% polyester t-shirt comes in a medium heather blue color and features a distressed screen print of the DeLorean on a brown starburst with the words "Doc Brown's" in cursive above it and below it is printed "CUSTOM CAR MODIFICATIONS".
This soft men's t-shirt comes in sizes Small – 3XL.
Don't wait, be the first to get this Back to the Future Doc Brown T-shirt.