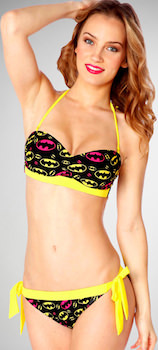 Get ready for summer and a day at the beach Batman style.
This Batman swimsuit is perfect for those hot days at the beach.
It's a 2 piece Batman bikini in black with yellow details and on the black you can find the famous Batman logo in pink and yellow and it basically covers the whole black fabric.
If I was a superhero like Batman then I would feeling so honoured to be put on a bathing suit like this one.
And this Batman bikini comes in a wide range of sizes from Small – X-Large. And this is an officially licenced Batman product so that you know you get a quality product.
Get ready for sun, sand and sea and enjoy wearing this Batman Bikini.