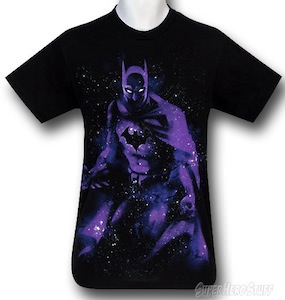 There is Batman the superhero with the bat logo on his chest.
This time Batman seems to be stuck in a light storm witch give him a purple glow surrounded by specks of light.
It all give a strange feeling and if you look into his eyes you may even get scared.
But no worries Batman is with you so others should be scared.
This Batman t-shirt comes in a range of adults sizes and is made from 100% cotton to give you a nice feel and shows the world an different Batman.
Lets get dressed into this Batman Black Light Storm T-Shirt.
You may also like: