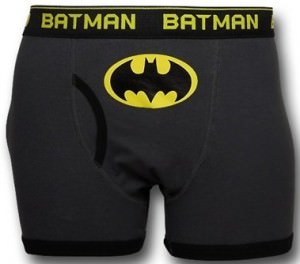 A superhero like Batman definetly wears his colors underneath his superhero outfit, now you too can be like DC comics Batman underneath your outfit.
These are a nice snug fitting pair of Batman boxer briefs, with the Batman logo on the front in yellow and the text "BATMAN" printed around the waistband multiple times.
Made from 95% Cotton and 5% spandex these DC comics Batman boxer briefs also feature an elastic waistband and tight fitting leg openings.
Get your Batman Symbol Boxer Briefs.