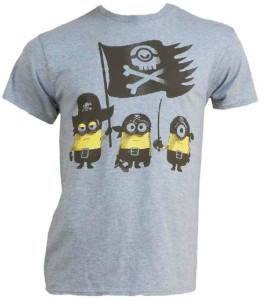 The crazy little yellow Minions keep looking for jobs and a new master. Pirates were one attempt.
On the front of this t-shirt you will see three Minions that are dressed up as pirates with hats and bandanas. One is holding the pirate flag of a minion skull and cross bones and the others have swords.
Made for 90% cotton and 10% polyester to give you a super soft comfortable shirt that will also be very durable to last a long time.
Available in a wide selection of heather grey adult sizes that range from Small to XL so many can enjoy this cool Minion pirate t-shirt that is perfect for all occasions.
You may also like: