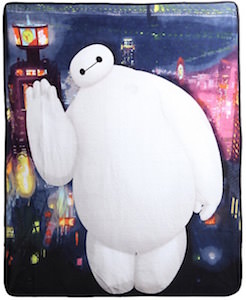 After seeing the Big Hero 6 movie you probably also just wanted to cuddle with Baymax.
And now you can or at least be close to this big white robot as it is printed on this fleece blanket.
The Big Hero 6 blanket shows Baymax taking up most of the front while waving at you while in the background you can see a part of San Fransokyo the city where Baymax lives.
This fleece throw blanket is 50 x 60 inch and of course warm and perfect for on the couch while watching a movie or for in the park for a picknick and a great book.