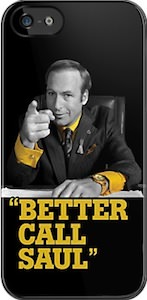 Saul Goodman the lawyer of all kind of people that do not completely legal things.
This Breaking Bad character loves to be part of you life and promote his business on the back of you iPhone.
This black hard case shows a black and white photo of Saul but with some yellow details and below the picture it says his famous "Better Call Saul" line from his advertisement.
You can get this Better Call Saul case for most iPhone models and here is the list:
iPhone 5s
iPhone 5
iPhone 4S
iPhone 4
iPhone 3GS
iPhone 3G
iPod touch 4e generation
A whole list of devices for witch you can get this amazing Breaking Bad case. And each case is high quality and you will have full access to all the ports and buttons.
Breaking Bad fans come and protect you phone with this Breaking Bad Better Call Saul iPhone Case.