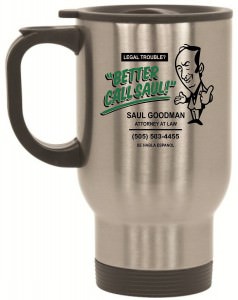 Form Breaking Bad and now his very own series Better Call Saul everyone knows that Saul Goodman is the man to go to when in legal trouble.
On this stainless steel travel mug you will find a fun sketch image of Saul Goodman along with the saying "Legal trouble? Better Call Saul Saul Goodman attorney at law" along with a phone number and "Se Habla Espanol".
This travel mug is made from durable stainless steel with a double inner wall to keep your hot liquids hot and cold liquids cold, holding 14 ounces and has a handle with comfy thumb rest.
Wake up with the Better Call Saul Stainless Steel Travel Mug.