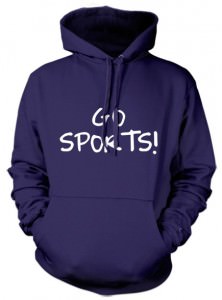 The Big Bang Theory has so many fun characters and each have giving us classic quotes and phrases, this is a hoodie that features one of those.
On the front of this hoodie there is white lettering that says "GO SPORTS!" this is what Leonard Hofstadter painted in green on his stomach skin during one of the classic The Big Bang Theory television series episode.
Made to be very durable to last a long time and of course super soft to feel and comfortable the go sports hoodie is available in a huge variety of sizes that range from Small to 3XL and comes in a navy blue color.
Get this The Big Bang Theory Leonard Hofstadter Go Sports Hoodie.