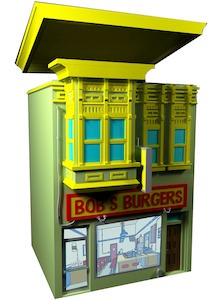 If you love cookies and Bob's Burgers then you just need this Bob's Burgers cookie jar.
The cookie jar looks exactly like the burger restaurant and home of the Belcher family. Yes, the cookie jar is the building where Bob does all his cooking and serving those amazing burgers.
The Bob's Burgers cookie jar is made from ceramic and is  6.5″L x 6″W x 8.5″H and can be hand washed only when you run out of cookies.
And like the real building there is a roof and that is the lid of the cookie jar. And don't worry when you put your hand in the cookie jar you won't find Bob and the family as it is only a cookie jar.
You may also like: