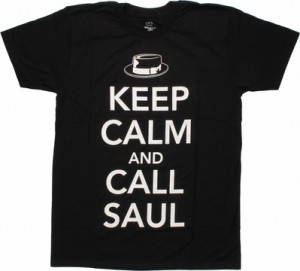 Saul Goodman, the lawyer on the hit television show Breaking Bad. Basically no matter what situation arises you can always count on Saul to figure out an angle to help you out.
This is a t-shirt that features two popular sayings, fusing them together to get this awesome t-shirt that Breaking Bad fans will absolutely love.
The saying on the front of this t-shirt is "Keep Calm And Call Saul" and above this saying you will find Heisenberg's hat which is of course the alter ego of Walter White.
Made from 100% cotton this will be a durable and super soft t-shirt that is available in many sizes.
Don't panic get this Breaking Bad Keep Calm and Call Saul T-Shirt.