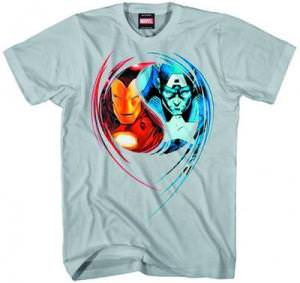 What is better than your favorite Marvel superhero on the front of your t-shirt?
That's easy ….. Two Marvel superheroes!
Check out this very cool t-shirt that features Iron Man on one side with red and gold artwork and on the other side is Captain America in a blue retro color, both with well details looking like a fire and ice theme.
Made to be very durable and last a long time while also super comfortable, this is perfect for the Marvel Comics enthusiast.
Check out this Marvel Captain America And Iron Man T-Shirt.