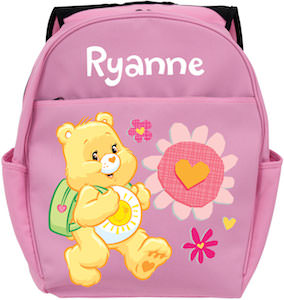 Does your toddler love the Care Bears?
If so then check out this toddler backpack that is great for day care or preschool.
On this pink backpack you can see Funshine Bear with a green backpack and some flowers and the bear seems so happy.
And if you want this Care Bears backpack can have your kids name on it and that will be printed just above all that and can hold any name up to 9 characters. A kids backpack with their name on it is perfect as it's easy to spot and will be returned if found.
If you little one needs a new backpack then come see this Care Bears Funshine Personalized Backpack.